Amazon Order Fulfilment and shipping
Amazon is the worlds number one marketplace for selling products online, with over 12 million of their own products for sale and up to 350million products if you include their resellers, Amazon is the king of retail.
Storeship software integrates directly to your Amazon seller account to give you hands free fulfilment of your goods for sale online through Amazon.
We can fulfil your orders from Amazon entirely from our warehouses known as FBM fulfilment by Merchant, alternatively we can store and ship your goods directly into Amazon fulfilment centres for you if you are using FBA fulfilment by Amazon, our FBA service can reduce your storage costs with Amazon as well as ensuring a steady supply of your products into Amazon. We can also accept containers and bulk deliveries directly in to our warehouses in the UK and EU, further reducing costs associated with import tax and VAT.


Amazon warehouses we ship to
Amazon Altrincham Manchester
- Amazon EU SARL UK Branch (MAN1) 6 Sunbank Lane, Airport City, Altrincham Manchester, M90 5AA
Amazon Bolton
- Amazon EU SARL UK Branch (MAN3) 360 Logistics North, Over Hulton, Bolton, BL5 1EE
Amazon Bowburn
- Amazon EU SARL UK Branch (MME2) Peat Edge Farm Tursdale Road, Bowburn, DH6 5NP
Amazon Bristol
- Amazon EU SARL UK Branch (BRS1) Amazon BRS1 Fulfillment Center, Goldcrest Way, Bristol, BS35 4DJ
Amazon Coventry
- AMAZON EU SARL UK Branch (BHX4) Plot 1, Lyons Park,, Sayer Dr, Coventry, CV5 9PF
Amazon Darlington
- Amazon EU SARL UK Branch (MME1) Building One, Symmetry Park, Darlington, DL1 4BF
Amazon Dartford
- Amazon EU SARL UK Branch (LCY3) Unit 1, Powerhouse Drive, Dartford, DA1 5XU
Amazon Derby
- Amazon EU SARL UK Branch (EMA1) Amazon EMA1 Fulfillment Center, Unit 1, Wilders Way, Derby, DE74 2BB
Amazon Dunstable
- Amazon EU SARL UK Branch (LTN4) Unit DC1 (Prologis), Boscombe Road, Dunstable, LU5 4FE
Amazon Felling Gateshead
- Amazon EU SARL UK Branch (NCL1) South Farm Follingsby Lane, Felling Gateshead, NE10 8YA
Amazon Hemel Hempstead
- Amazon EU SARL UK Branch (LTN2) Boundary Way, Hertfordshire, Hemel Hempstead, HP2 7UJ
Amazon New Rossington Doncaster
- Amazon EU SARL UK Branch (LBA4) Unit IP9 Toronto Way, New Rossington Doncaster, DN11 0GU
Amazon Peterborough Cambridge
- Amazon EU SARL UK Branch (EUK5) Phase Two, Kingston Park, Flaxley Road, Peterborough Cambridge, PE2 9EN
Amazon Ridgmont
- Amazon EU SARL UK Branch (LTN1) Marston Gate, Ridgmont, MK43 0ZA
Amazon Rugeley
- Amazon EU SARL UK Branch (BHX1) Towers Business Park, Power Station Road, Rugeley, WS15 1LX
Amazon South Marston Swindon
- Amazon EU SARL UK Branch (BRS2) Unit 2, Symmetry Park, Laines Way, South Marston Swindon, SN3 4DB
Amazon Stanley, Wakefield
- Amazon EU SarL UK Branch (DSA6) New Market Lane, Stanley, Wakefield, LS26 9DN
Amazon Sutton in Ashfield Mansfield
- Amazon EU SARL UK Branch (EMA2) Summit Park, Sherwood Way South, Sutton in Ashfield Mansfield, NG17 4PA
Amazon Tilbury
- Amazon EU SARL UK Branch (LCY2) Amazon Distribution Depot, Unit 2, London Distribution Park, Tilbury, RM18 7AN
Amazon Warrington
- Amazon EU SARL UK Branch (MAN2) Omega Plot 7c, Orion Boulevard, Warrington, WA5 3XA
Fulfilment by Storeship
We received unshipped orders
Once connected to Amazon our system automatically receives unshipped orders electronically, the data is transferred behind the scenes through the Amazon API, advising us of the order details including:
Order Number
Delivery Name
Delivery Address
Delivery Postcode
Products Ordered from Amazon
Quantity of products ordered
Any specific order notes
Delivery Method
Once the details are received, we check the information against our own databases of postcodes and addresses as well as check for any stock or product issues, flagging up any potential problems before we post the goods out, saving our customers time and money.

We fulfil unshipped orders
Once we receive an order in to our warehouse, our super efficient staff get to work picking your products on the order, we use high tech PDA devices and scan in all picks before the orders can be packed and shipped, this reduces errors and ensure the exact products that your Amazon customers buy are the exact products we pick for that order, our accuracy rate is over 99.98% for picking
Amazon orders
in our warehouse.
Once the orders have been picked they are passed on to one of our packing stations containing all the equipment to pack and ship your order, all products are once again scanned to make sure we have the right products for the right order, we then generate the postage labels, you can set the postal service you require for your Amazon Orders in your Storeship control Panel.
Once an order has been packed and postal labels applied we then check weight the package to ensure once again the weight is what it should be with our weight calculators, we finally register any tracking numbers to our system and then we take an image of the final packed box and label for total piece of mind and to help with any possible future postal claims etc.
Once fulfilled we update your Amazon order status to shipped
Once we have picked and packed your order, our system then automatically communicates back to Amazon to confirm that we have fulfilled all the line items on the order and then mark the orders as fullfiled.

We add any relevant tracking numbers to your orders
Whilst marking an order as fulfilled on Amazon we also add any relevant tracking numbers, this includes the Postal company and any specific tracking links to help your customers track their order online.
We can also supply your customers with their own tracking link to follow the parcels progress to their door.
Our system triggers emails to notify customer item has shipped
Once tracking information has been uploaded to Amazon, this triggers an email to your customer advising them that the goods have been packed and fulfilled, it also advises them of any relevant tracking numbers, all completely automatic leaving you time to concentrate on sales.
Our system communicates with your marketplace and downloads orders every hour, once your Amazon orders have been shipped by our team of skilled pickers and packers we notify Amazon that order has been shipped and mark the order shipped with any relevant tracking numbers, our Amazon Fulfilment Service works seamlessly with your online store, freeing your time to concentrate on sales and marketing.
As a Storeship customer you have 24/7 access to our online control panel where you can view all your orders and products in our warehouse in real time.
We are able to integrate with the following eCommerce platforms;
Amazon Vendor Central order fulfilment
Bol.com order fulfilment
BrightPearl order fulfilment
Cdiscount order fulfilment
CubeCart order fulfilment
EKM order fulfilment
Fruugo order fulfilment
Groupon order fulfilment
Interspire order fulfilment
Linnworks order fulfilment
Mano Mano order fulfilment
Mirakl order fulfilment
Next order fulfilment
Opencart order fulfilment
OSCommerce order fulfilment
Paypal order fulfilment
PrestaShop order fulfilment
Quickbooks order fulfilment
Recharge order fulfilment
Shopware order fulfilment
Veeqo order fulfilment
Vend order fulfilment
VisualSoft order fulfilment
Volusion order fulfilment
Wayfair order fulfilment
Wish order fulfilment
Wix order fulfilment
Wowcher order fulfilment
ZenCart order fulfilment
Zoho order fulfilment
We integrate with more partners than 95% of UK fulfilment houses and continually working on new partners.
Fulfilment by Amazon Prep Service
By using our FBA Prep service we can help you reduce costs and operate a more streamlined approach to selling on Amazon. How our FBA Prep service works?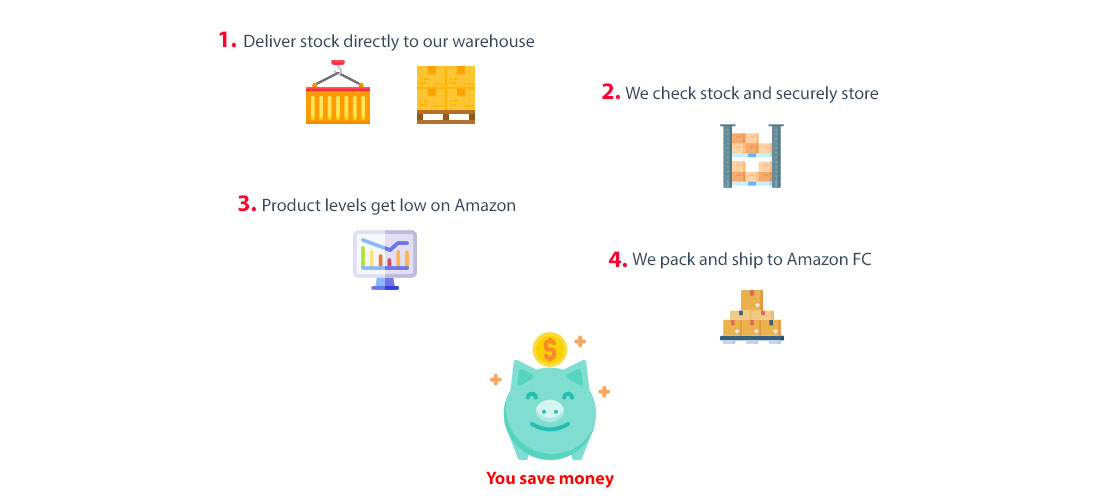 Our warehouse is located in the UK so you can arrange to deliver to the most relevant warehouse, by directly sending stock to us from your suppliers to our seperate warehouses you will not incur additional import duties, VAT or tax.
Our Amazon Prep starts at just 50p per label applied to outer boxes, we even arrange the collection of the stock if using Amazons own transport services. Just send us the labels and we do the rest.
Coming Soon: Amazon customer management including all sales enquiries and customers messages for you, no more late responses.