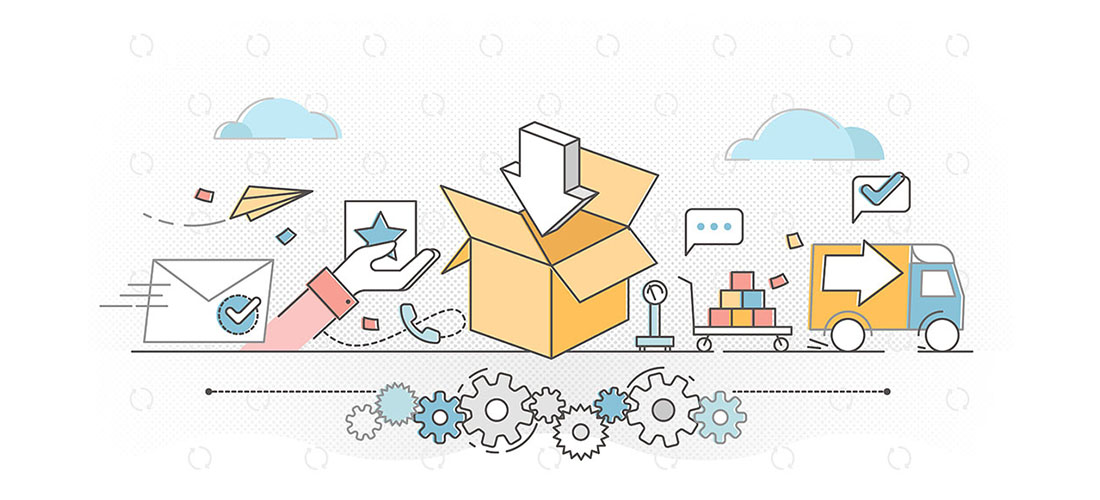 Fulfilment - How it works
Storeship Ltd specialise in Ecommerce fulfilment so we look after the day to day running of your online sales outlet whilst you concentrate on sales and marketing.
Using our services couldnt be easier, follow how we work below.
Send us your Stock
Our super efficient staff receive your stock from your suppliers and book it in to our online system, usually within 24 hours of receipt. Once in Stock we store the goods for you in our secure, clean warehouse, our storage fee is super low and charged per item stored depending on size, fees start as little as £0.003 per item per week.
Automated
Our warehouse receives most orders from Online stores and marketplaces connected to Storeship, the process is completely automated once set up, we can receive orders from places like Amazon, eBay and Shopify, once received they are beamed straight to the workstations in the warehouse ready for stage 3.
Pick, Pack and Ship
Once an order is received in the warehouse, our staff use the latest technology to find your products, they are scanned in, neatly packed and then check weighed, label applied and photographed before heading off to the sorting office, we charge just a small fee from 50p for picking and packing service.
What is fulfilment
Fulfilment or Fullfilment (American spelling) is a another word for satisfaction or the process of fulfilling something, the word can be used in several different environments but in the scenario of our business we will assume it to mean the fulfilling of tasks on behalf of someone else.
Ecommerce fulfilment is the process of fulfilling tasks to do with selling and the processing of orders and product distribution, due to the costly nature of storing goods and the infrastructure behind distributing goods, these processes are often passed onto Third Party Logictics companies or 3PL's as they are generally known to be completed by a specialist expert in this field of warehousing.
As well as passing on the storage of goods the 3PL will also look after your orders, ensuring they are accurately delivered to the correct customer in a timely manner, these processes can be time consuming and expensive, by passing them on to a third party, business owners can concentrate their time on sales and marketing, produing more sales in the long run and with a professional fulfilment centre can produce a professional service all round.
Advantages of using Storeship
There are a lot of advantages for outsourcing your order fulfilment, for the small fee that we charge to ship your order it can actually be cheaper than shipping goods yourself to customers.
Some of the ways in which third party logistics can help save you time and money include:


No expensive warehouse costs
Pay as you go with no minimum order quantity
Ship stock direct to us from your manufacturers and suppliers
No expensive hardware and software for processing orders
Discounted shipping rates
Discounted storage rates
We help deal with any shipping problems
Spend time marketing and promotion instead of shipping
No long waits at the post office
Utilise our bulk buying discounts
Discounted Packaging
UK and EU distribution

Returns
We can look after all of your product and order returns including returns not sourced from our warehouse. Our third party returns service including generating and producing address and return postage for your customers, with our new customer area, your customers can now book their own returns back to our warehouse in two easy steps and now with your own branded returns portal.

Are you fed up of paying import tax and duty on every item returned to you by your customers?
We can accept all of your returns and collate them in to one consignment to send back to you, as the goods are yours and being returned you can avoid the expense and hassle of paying import tax and duties on your customer returns.

Our ecommerce returns service is an excellent way to keep your customers happy and offer return labels and postage to your customers, our quick and efficient Goods In and receiving departments can receive and process your return within 24 hours, this not only ensures a speedy turn around but also avoids costly customer service issues, bad feedback and angry customers.

Just some of the reasons to use our returns service in hand with our excellent eCommerce Fulfilment services


Your customers can book returns on your branded returns portal
Free Returns Portal
We can receive and process a return within 24 hours
We supply postage labels and address labels as required
Discounted postal rates
Free storage for returns
We can collate returns and bulk ship them back to you
Process returns to your requirements
Restock, Quarantine or dispose of returns
More Information
As a Third Party Logistics warehouse, Storeship can help with all aspects of your supply chain, from repacking boxes to mass mailouts and deliveries.
We are a dedicated 3PL operative fully licensed by the UK government for Ecommerce Fulfilment Services